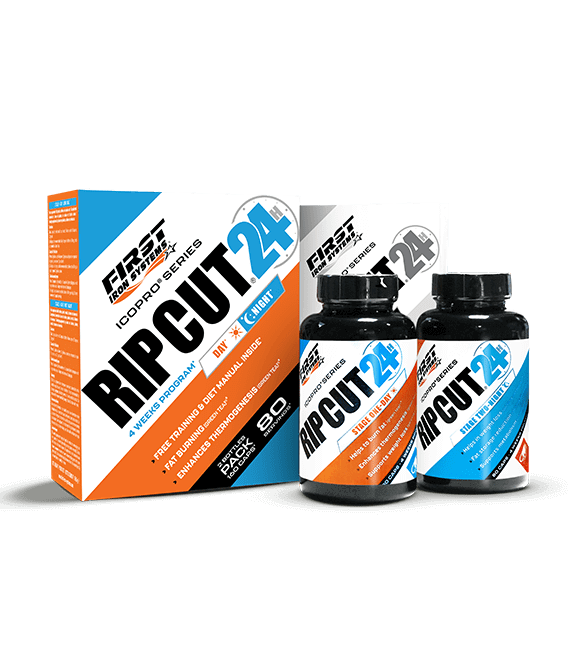 The Rip Cut 24 program has been specifically designed to provide a powerful solution to athletes wanting to burn fat¹ and so getting ripped and cut.
Combining 12 proven active ingredients in two complementary formulas, it works both day and night for even more rapid results.
Stage 1 first includes L-Tyrosine and green tea that contributes to release and burn fat while enhancing thermogenesis (increased metabolism and calorie burning). Guarana simultaneously promotes weight control. In addition, dandelion supports diuresis (anti water-retention effect), which aids the body's elimination functions.
At the end of the day, Stages 2 takes over. It brings L-Carnitine & garcinia cambogia, that helps in weight loss and control, but also inositol and vitamin B6. Choline, zinc and chromium are involved in the metabolism of lipids.
Rip Cut 24's action goes on in the evening and during the night with no stimulant (which contributes to improve sleep quality).
Being active 24 hours a day, Rip Cut 24 provides all the support necessary to achieve optimal progress.
Nutrition facts for a daily intake
Stage 1 :
• 500 mg green tea, of which 30 mg caffeine
• 400 mg L-Tyrosine
• 70 mg guarana, of which 15,5 mg caffeine
• 200 mg dandelion
• 113,6 mg caffeine
• 100 mg garcinia cambogia, of which 60 mg hydroxycitric acid
Stage 2 :
• 500 mg garcinia cambogia, of which 300 mg hydroxycitric acid
• 400 mg choline
• 400 mg L-Carnitine tartrate• 400 mg L-Carnitine tartrate
• 200 mg inositol
• 10 mg zinc
• 2 mg vitamin B6
• 10 µg chromium
¹ Green tea and catechins contribute to fat release and burning.

Stage 1 : take 2 caps at breakfast and 2 caps at lunch.
Stage 2 : take 2 caps at dinner and 2 caps at bedtime.
Follow a cycle of 5 days on, 2 days off.
In Belgium, the daily dose is 2 capsules (Stage 1).
FOCUS ON HOW TO ACHIEVE YOU LEAN PHYSIQUE GOALS
When you want to improve your definition, it is important to take into account three complementary key aspects :
Rip Cut 24 combines two complementary formulas burning fat continuously, but it also includes a training and diet manual for better results.
A complete and efficient program to get ripped quickly.
To achieve outstanding quality, we pay close attention to each step of the manufacturing process of Rip Cut 24 from raw material selection to production. We also carry out strict controls to make sure our products meet the highest standards of quality. That is why you can be sure that each component listed on the label is fully included in the bottle.
All our supplements are engineered in laboratories by sports nutrition experts. They are guaranteed to be free of banned substances, ensuring perfect safety and meeting the sports nutrition needs of the most demanding athletes.
RIP CUT 24 CAN BE ASSOCIATED WITH