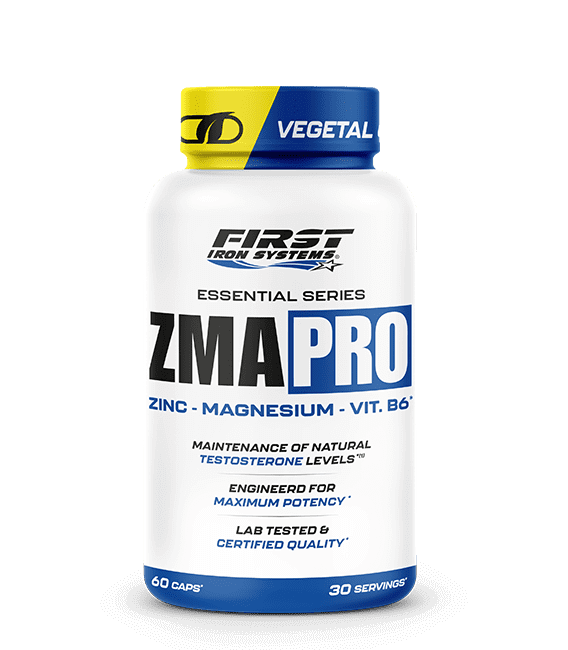 ZMA Pro combines zinc, magnesium and vitamin B6, three essential nutrients highly appreciated in the sports and athletic field. It performs a triple action :
– Support of testosterone levels
Zinc contributes to the maintenance of natural testosterone levels while taking part in the synthesis of proteins (that make up muscles).
– Hormonal regulation
Vitamin B6 intervenes in the regulation of natural hormonal activity.
– Fatigue reduction
Magnesium helps to reduce fatigue and tiredness. It also plays a role in the energy-yielding metabolism, muscular function and protein synthesis.
Supplementing regularly with ZMA is beneficial since zinc and magnesium are among the most common nutrient deficiencies in athletes, which can impact the results negatively.
For ZMA Pro, we use exclusively superior quality nutrients offering optimum efficiency.
Nutrition facts for a daily intake
• 300 mg magnesium
• 15 mg zinc
• 2 mg vitamin B6
¹ Zinc contributes to the maintenance of normal testosterone levels.
² Magnesium helps reduce fatigue.

2 caps at bedtime, even on rest days.
Take ZMA Pro ideally for an 8-week cycle.
60 capsules (30 servings)
An excellent fully-dosed supplement that I recommend to hard-working athletes to help them reach their goals.
ZMA Pro is without any hesitation a must-have to sleep and recover better.
To achieve outstanding quality, we pay close attention to each step of the manufacturing process of ZMA Pro from raw material selection to production. We also carry out strict controls to make sure our products meet the highest standards of quality. That is why you can be sure that each component listed on the label is fully included in the bottle.
All our supplements are engineered in laboratories by sports nutrition experts. They are guaranteed to be free of banned substances, ensuring perfect safety and meeting the sports nutrition needs of the most demanding athletes.
ZMA PRO CAN BE ASSOCIATED WITH