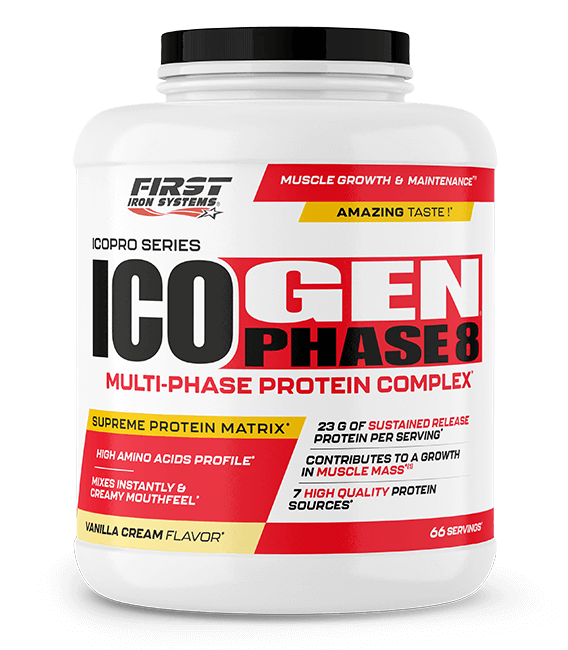 An ongoing supply of protein is a key factor when it comes to building muscle mass. That is why we developed Ico Gen Phase 8, a multiphase sustained release protein complex.
Combining a very precise ratio of seven complementary protein sources with variable digestion rates, Ico Gen Phase 8 enables a sustained amino acid release for up to 8 hours.
The fast-digesting proteins (whey hydrolysate, isolate and concentrate) are the first to deliver their amino acids.Then the medium-digesting sources (egg and milk proteins) and eventually the slow-absorbing caseins (micellar casein and calcium caseinate) take over for an ongoing support.
Our protein complex accounts for 95% of the product composition (value for the vanilla cream flavor). Each serving brings 24 g of proteins rich in amino acids, namely BCAAs (5,6 g per dose), for only 0,8 g of saturated fats (Values for the vanilla cream flavor. These values may vary slightly depending to the taste).
Taken three times a day, Ico Gen Phase 8 offers a sustained protein release all day and night long, which results in maximum gains.
Ico Gen Phase 8 brings multi-stage release proteins :
– Fast-digesting
– Medium-released
– Slow-absorbing
Each dose provides an ongoing amino acid support for up to 8 hours.
NUTRITION FACTS PER INTAKE OF 30 G
(Valeurs pour l'arôme Vanille Crème. Les valeurs peuvent varier légèrement selon la saveur)
• 24 g protein
• 2,4 g carbs
• 1,3 g fats, of which 0,8 g saturated fats
¹ Proteins contribute to the growth and maintenance of muscle mass.

Mix 30 g in 200 to 250 ml of liquid (water, skimmed milk, vegetal milk). Adjust the quantity of liquid according to the desired consistency and taste.
Ico Gen Phase 8 can be used anytime when a quality protein intake is needed. Take 1 to 3 dose(s) a day : at breakfast, as snacks between meals, before exercising, after a training session, at bedtime. It is advised to spread the doses over the day.
When you want to gain muscle mass, nutrition is as important as training. Because the building phase takes place between workouts, and only if the right nutritional "materials" are available. All experts agree that protein is definitely the key aspect.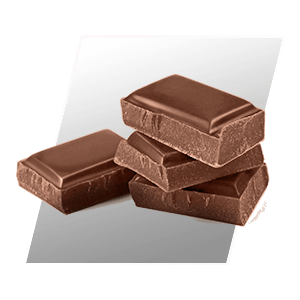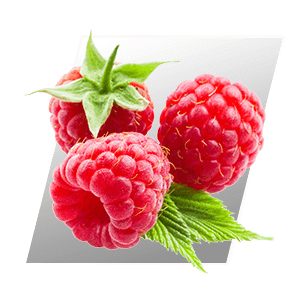 Ico Gen Phase 8 has been designed to provide a sustained protein release. With 3 servings a day, you get a 24-hour amino acid supply for maximum results
A high quality multisource protein that digests very well and helps to get noticeable muscle gains.
To achieve outstanding quality, we pay close attention to each step of the manufacturing process : development, selection of the different protein sources, manufacturing. We also carry out strict controls to make sure our products meet the highest standards of quality. That is why you can be sure that each gram of protein listed on the label is fully included in the bottle and that the formula contains no hidden sugars or fats.
All our supplements are engineered in laboratories by sports nutrition experts. They are guaranteed to be free of banned substances, ensuring perfect safety and meeting the sports nutrition needs of the most demanding athletes.
ICO GEN PHASE 8 CAN BE ASSOCIATED WITH