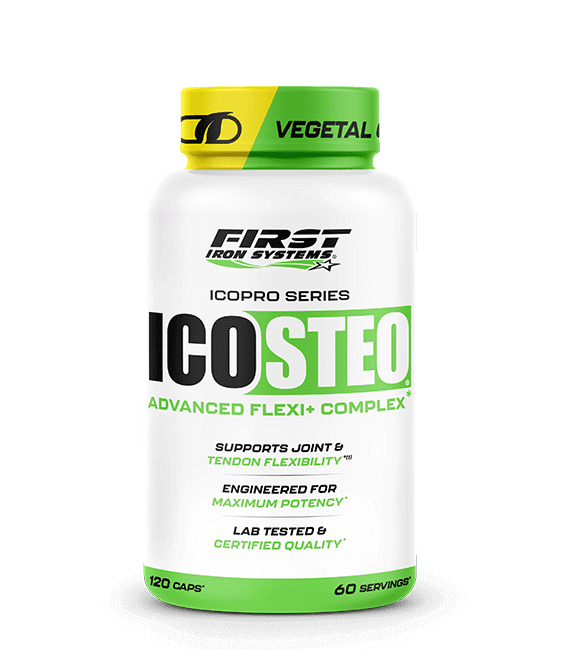 Ico Steo contains an array of 10 carefully selected proven nutrients combined at full dosages. Ico Steo first brings glucosamine, chondroitin, bromeline and turmeric (Curcuma longa), which contributes to preserve joints and tendons flexibility. It also includes manganese and copper that contribute to build and maintain connective tissues. Vitamin C plays a role in collagen formation for the normal function of cartilage. The formula is completed with vitamin B2, vitamin E and zinc which take part in the protection of cells from oxidative stress.
Ico Steo is an efficient formula specially designed for active people whose joints are subjected to a specific stress and for all those who experience stiffness related to the natural ageing process. It is a high quality solution to support joint flexibility ¹.
Nutrition facts for a daily intake
• 1000 mg glucosamine sulphate
• 900 mg chondroitin sulphate
• 200 mg turmeric extract (Curcuma longa)
• 10 mg bromelaine
• 1 mg of manganese
• 0,5 mg copper
• 10 mg zinc
• 40 mg vitamin C
• 0,7 mg vitamin B2
• 6 mg vitamin E
¹ Tumeric contributes to the flexibility of joints and tendons.
² Vitamin C plays a role in collagen formation for the normal function of cartilage.
³ Manganese and copper contribute to build and maintain connective tissues.

Take 2 caps at breakfast time and 2 caps at dinner.
For a complete action follow preferably an 8-week cycle.
Joints are essential for mobility : they act like hinges enabling movements. They are made up of different connective tissues. Ligaments connect bone to bone whereas tendons link muscle to bone. Cartilage, composed of collagen, covers and protects bone ends, helping to absorb shocks. The synovial membrane produces synovial fluid, which has a lubricating function supporting joint structure and flexibility.
Ico Steo is an ultra-complete and fully dosed support complex. I definitely recommend it to all the athletes who repeatedly put a lot of wear and tear on their joints through their training sessions.
A must-have supplement I take regularly to preserve and strengthen my joints.
To achieve outstanding quality, we pay close attention to each step of the manufacturing process of Ico Steo from raw material selection to production. We also carry out strict controls to make sure our products meet the highest standards of quality. That is why you can be sure that each component listed on the label is fully included in the bottle.
All our supplements are engineered in laboratories by sports nutrition experts. They are guaranteed to be free of banned substances, ensuring perfect safety and meeting the sports nutrition needs of the most demanding athletes.