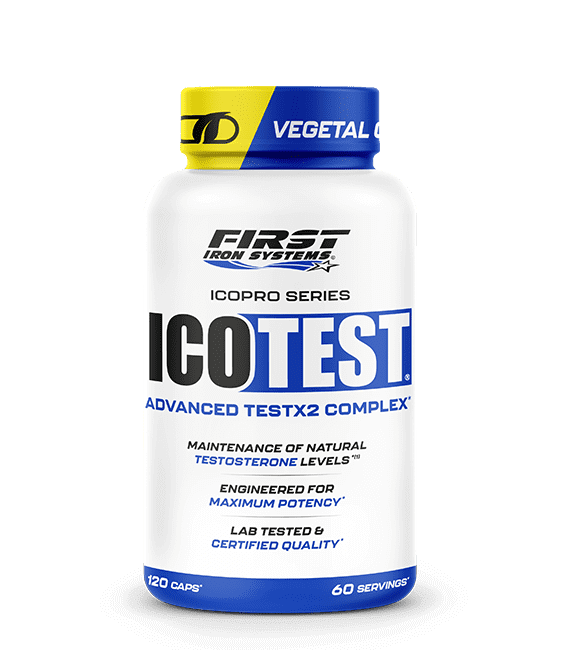 Ico Test contains an array of 9 carefully selected proven sports nutrition nutrients combined at full dosages and working in perfect synergy.
Ico Test first includes ashwagandha. This herbal extract improves the body's resistance to stress while enhancing mass and weight gains, energy and vitality.
Ico Test also brings maca, fenugreek and zinc, which supports the maintenance of natural testosterone levels. Vitamin B5 plays a role in natural hormonal synthesis. Zinc also contributes to normal protein synthesis and to the protection of cells from oxidative stress.
Rhodiola rosea is known for its adaptogenic properties and helps to increase performance, strength and endurance.
The formula is completed with vitamin B6, that takes part in the regulation of hormonal activity. Folic acid contributes to normal amino acid synthesis. Vitamin B12 intervenes in the normal energy-yielding metabolism.
Nutrition facts for a daily intake
• 1000 mg d'ashwagandha
• 600 mg maca
• 600 mg fenugreek
• 150 mg rhodiola rosea
• 10 mg zinc
• 3 mg vitamin B5
• 1,4 mg vitamin B6
• 1 µg vitamin B12
• 200 µg folic acid
¹ Zinc contributes to the maintenance of normal testosterone levels.
² Ashwagandha helps to increase weight and mass gains while enhancing vitality and energy.

2 caps in the morning, ideally when you wake up or early in the morning and 2 caps in the late afternoon. Keep at least 8 hours between each intake. On training days, take one of the 2 servings 15 minutes before training. Ideally take Ico Test for an 8-week cycle. We recommend 2 to 3 cycles a year with minimum a 30-day break between each of them.
Testosterone has a major role to play in putting on serious gains. This natural hormone is crucial for muscle growth and recovery after training. It can also help to boost strength and physical performance, burn body fat and support your libido.
Ico Test is one of the most powerful products in its category. Following one or two 8-week cycle(s) a year will help support your natural testosterone levels.
A complete and powerful T-booster. I rapidly noticed a significant increase in muscle and strength with a better recovery.
To achieve outstanding quality, we pay close attention to each step of the manufacturing process of Ico Test from raw material selection to production. We also carry out strict controls to make sure our products meet the highest standards of quality. That is why you can be sure that each component listed on the label is fully included in the bottle.
All our supplements are engineered in laboratories by sports nutrition experts. They are guaranteed to be free of banned substances, ensuring perfect safety and meeting the sports nutrition needs of the most demanding athletes.
ICO TEST CAN BE ASSOCIATED WITH